Yoseph: A Word Picture Of Messiah
A Green Tree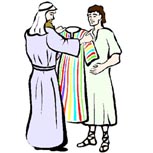 Something for you to ponder!
"If they do these things in a green tree, what shall be done in the dry?
Yet one day they shall sit every man under his green vine and under his green fig tree;
and none shall make them afraid:
for the mouth of the LORD of hosts has spoken this.
Let it be written, let it be done!"

The Bible is all about the Messiah. Yes, from the book of Genesis to the book of the Revelation of Yeshua, Messiah Yeshua is its main subject (Psalm 40:6-8). In the Older Covenant there were hundreds of prophecies foretelling us this fact. His manner, circumstances, and even the miraculous nature of His birth was painted wonderfully for us in the Scriptures. Certain prophecies spoke of His life, ministry, and death. Others pointed to His Resurrection from the dead, and then His Ascension back into Heaven.

When one of His followers Cleopas, and his companion encountered the Resurrected Messiah on the road to Emmaus, He gave them a lesson from the Hebrew Scriptures: "And beginning at Moses and all the prophets, he expounded unto them in all the scriptures the things concerning himself" (Luke 24:27).

So "all" of the prophets, and "all" of the Hebrew Scriptures were prophetic of Yeshua the Messiah, the Volume of the Book. Literally hundreds of Messianic types are scattered throughout the Older Covenant. But nowhere in the Hebrew Bible is there a more compelling portrait of the Messiah than in the story of Yoseph, the son of Yacov.

In the Hebrew, the name Yoseph means: "He shall add" or "Let Him add." Rachel gave Yoseph this name because he was the answer to her prayers that God would "add" to her a son from your own body.

Yoseph is the seventh major character in the Genesis narrative (the previous six being Adam, Abel, Noah, Abraham, Isaac, and Yacov). This is notable because seven in Scripture is the number of perfection and completion, and certainly Yoseph is the most perfect and complete type of our Lord in the Older Covenant. So let us examine the many parallels between Yoseph and Yeshua (Jesus). They provide compelling evidence that Yeshua of Nazareth, is exactly who He claimed to be.
********************************************

1. Both Yoseph and Yeshua were given two names.

The son of Yacov had two names: "Yoseph" the name he received at his birth (Gen. 30:22-24) and "Zaphnath-Paaneah," the name he received in Egypt (Gen. 41:45) by the Pharaoh. Yoseph in the Hebrew is really "Yossef" literally meaning, "He Shall Add" or "Let Him Add." As we have stated before, the Bible says Rachel named him Yoseph because he was the answer to her prayers that God would "add" to her a son, and it would be from her own body (Gen. 30:24).

Yoseph is actually a contraction of a longer Hebrew name: "Yehossef" - but the son of Yacov was known by the shorter form (like a nick name), Yossef. Both forms have the same meaning (to "add" or "augment"). Even today in the modern Hebrew, "hossef" means "add."

Yeshua Messiah, like Yoseph, is the great "Adder."
He offers Salvation (Yeshuah) to "All"
who will have Trusting Faith in "Him."


The Bible does not explain the meaning of Zaphnath-Paaneah, Yoseph's Egyptian name. Many linguists have their opinions, but the Ancient Rabbis said it meant "Reveler of Secrets" or "Decipher
of Codes." - Now think about that when it comes to the Bible Codes being revealed today!
These definition are well stated by these Ancient Rabbis, because we know Pharaoh was astounded at Yoseph's ability to "reveal" the meaning of his dreams, which really was an "encoded dream" using the number 7, perfection and completion. (Gen. 41:38-39).

Like Yoseph, the Son of God also has two names. In Hebrew the first is "Yeshua." The angel who announced His birth said He would be named Yeshua because He would "save His people from their sins" (Matt. 1:21). Yeshua, like Yossef, is a contraction of a longer Hebrew name, Yeshuah, which means: "God Is Salvation."

His second name is really a title: Mashiach, or "Anointed One." Actually, the word "Messiah" appears only twice in the entire English Older Covenant books, and both instances occur in Daniel's prophecy of the seventy "weeks" (Dan. 9:26-27). this is a well known passage.

Nonetheless, the prophecy promised of a coming Deliverer can be traced all the way back to Moses first book, Genesis 3:15, where the LORD said, "And I will put enmity between thee [the serpent] and the woman [Eve], and between thy seed and her seed; it shall bruise thy head, and thou shalt bruise his heel."

The serpent in the Garden of Eden was the personification of HaSatan, the Adversary, the Evil One, and Yeshua the Messiah was the prophecy promised "seed" of Eve who would indeed come to crush his head. "He that committeth sin is of the devil; for the devil sinneth from the beginning. For this purpose the Son of God was manifested, that he might destroy the works of the devil" (1 John 3:8).

The first Adam was the ultimate Subtracter, who took away our innocence and communion with God by introducing sin into the world. But the last Adam, like Yoseph, is the great Adder, who offers Salvation to "all" who will have trusting faith in Him. Through one, many were lost; and through the other, many will be saved. Through one, all of the Creation fell under a curse; through the other, Paradise will be restored one day (Rom. 8:21-23).

Yeshua the Messiah taught in parables for four reasons: (1) To conceal some truth from those who did not have ears to hear and eyes to see with. (2) Because prophecy foretold He would. (3) To reveal the meaning of certain divine "mysteries" to His Followers, the Believers in Him (Matt. 13:10-17). (4) Because the Word of God said He would (Psalm 49:4; 78:2).

So Messiah was as Yoseph, a reveler of secrets, and also a concealer of secrets (deep things, encoded things, codes).

2. Both were loved by their Fathers.

"Now Israel [that is, Yacov] loved Yoseph more than all his children, because he was the son of his old age: . . ." (Gen. 37:3). Yoseph was not only "the baby" of the family, but he was also the son of Rachel, Yacov's favorite wife. So Yacov loved Yoseph very deeply.

No wonder Yacov was so grief-stricken when they told him Yoseph had been attacked and killed by wild beasts. The Bible says Yacov ripped his clothing putting on sackcloth, and he mourned for many days (Gen. 37:33-34). It was like someone had reached into his chest and ripped his heart out. No one could console him.

But did you know beloved, Yeshua the Messiah was also beloved of His Father? When Yeshua was immersed by John in the Yaden river, He came up out of the water, the Heavens were opened and John saw the Spirit of God descending like a dove upon Yeshua. Then a voice from Heaven said, "This is my beloved Son, in whom I am well pleased" (Matt. 3:16-17).

How it must have grieved the heart of God to allow His own beloved Son to be killed! In fact, the Bible tells us that Yeshua Himself had the power to stop the Crucifixion at any time (Matt. 26:53).

So why did He choose to endure the pain and suffering of the Cross? He did it "for the joy that was set before Him" (Heb. 12:2). And why did God the Father allow Him to die? Because He loved us, and He knew there was no other way we could be saved. "For God so loved the world that he gave his only begotten Son, that whosoever believeth in him should not perish, but have everlasting life" (John 3:16).

3. Both were shepherds of their fathers' sheep.

He was a shepherd. ". . . Yoseph, being seventeen years old, was feeding the flock with his brethren; . . ." (Gen. 37:2). Some of the most prominent characters in the Older Covenant including Abel, Yacov, Yoseph, Moses, and David were shepherds by occupation. They were not kings or noblemen, but simple, hard-working men of the land.

When the fullness of time had come, God sent His angel, accompanied by a heavenly host, to announce the coming of the Messiah. To whom did the angel make this momentous and long-awaited announcement? Again it was not to kings, politicians, or the social elite of Judea, but to shepherds.

"And there were in the same country shepherds abiding in the field, keeping watch over their flock by night. And, lo, the angel of the Lord came upon them, and the glory of the Lord shone round about them: and they were sore afraid. And the angel said unto them, Fear not: for, behold, I bring you good tidings of great joy, which shall be to all people. For unto you is born this day in the city of David a Saviour, which is Messiah the Lord. And this shall be a sign unto you; Ye shall find the babe wrapped in swaddling clothes, lying in a manger" (Luke 2:8-12).

Yeshua, too, is the Shepherd of His Father's flock. In fact, one of His titles in the New Covenant is "The Good Shepherd." He said, "I am the good shepherd: the good shepherd giveth his life for the sheep" (John 10:11).

Like Yoseph, our Lord was sent by His Father to His brothers, "the lost sheep of the House of Israel." As Yoseph's brothers resented and rejected him, the Jews refused to receive their "Brother" Jesus.

Originally, the Good Shepherd's flock was Israel (Psalm 80:1; cf. Psalm 23:1; Isa. 40:10-11; Ezek. 34:11-16). However, Yeshua said, "And other sheep I have, which are not of this fold: them also I must bring, and they shall hear my voice; and there shall be one fold, and one shepherd" (John 10:16).

Who are these "other sheep" who are not of the fold of Israel? They are Gentiles, who would be grafted into the Olive Tree by trusting faith in the Lord Yeshua Messiah (Rom. 11:17-21).

4. Both were sent BY their fathers TO their brothers.

"And his brethren went to feed their father's flock in Shechem. And Israel said unto Yoseph, Do not thy brethren feed the flock in Shechem? come, and I will send thee unto them. And he said to him, Here am I" (Gen. 37:12-13).

Yacov told Yoseph to leave the Valley of Hebron and go to Shechem to check on his brothers. Yoseph answered, "Here am I," indicating that he was ready and willing to go. But when he arrived in Shechem, his brothers were not where they were supposed to be. He was told that they had left Shechem and gone to Dothan, which was farther north, on the way to Mount Carmel (vv. 14-17).

So Yoseph headed for Dothan, searching for his brothers. When he found them, however, they did not receive him as a brother. Instead, they conspired to kill him (v. 18). Why did they want to kill him? Because they rejected his claims to preeminence as revealed in his dreams (v. 19). They were angry and jealous of him.
Now watch this...
Yeshua was also sent by His Father (John 5:30). He came to His brothers, "the lost sheep of the House of Israel" (Matt. 15: 24). But when He arrived, His Jewish brothers were not-in a spiritual sense-where they were supposed to be. Instead of being in the place of consecration, where they could have recognized the Messiah through eyes of faith, the Jewish leadership had become worldly and corrupt. The Sanhedrin was influenced by Rome and stacked with wealthy Jewish aristocrats (mostly Sadducees) who were more interested in economics and politics than they were in the coming of the Son of David.

His brethren were not where they were supposed to be, so Yeshua pursued them. He said, "For the Son of man is come to seek and to save that which was lost" (Luke 19:10). He found them, but they did not receive Him. The Bible says, "He came unto his own, and his own received him not" (John 1:11). In fact, they conspired to kill Him (Matt. 26:1-4).

Why did they want to kill Him? Because of His claims of preeminence. He said He was the Messiah, the Son of the Living God, and that the leaders of Israel would someday see Him ". . . sitting on the right hand of power, and coming in the clouds of heaven" (Matt. 26:64).

How did the members of the Sanhedrin respond to Yeshua' claims? The following verses tell us: "Then the high priest rent his clothes, saying, He hath spoken blasphemy; what further need have we of witnesses? behold, now ye have heard his blasphemy. What think ye? They answered and said, He is guilty of death" (Matt. 26:65-66).

5. Both had personal robes that were taken from them.


Yoseph's "coat of many colors" was a colorful, ornate garment that extended down to the wrists and ankles. A full-length robe like this was usually worn only on special occasions, as a man today might wear a tuxedo. "And it came to pass, when Yoseph was come unto his brethren, that they stript Yoseph out of his coat, his coat of many colours that was on him" (Gen. 37:23).

However, Yoseph wore his all the time, everywhere he went, as if he were royalty! It served as a constant reminder to his brothers that Yoseph was the son of Rachel and that he would receive a double portion of his father's inheritance.

Psalm 22 is one of the most moving Messianic passages in the entire Old Testament. Angel Martinez, the late Mexican Baptist evangelist, used to say, "When we read the twenty-second psalm, we are breathing the atmosphere of Calvary." How true! King David is prophesying about events that would take place at Calvary a thousand years later. He quotes the suffering Messiah as saying, "They part my garments among them, and cast lots upon my vesture (v. 18).

The New Covenant makes note of this prophetic fulfillment: "Then the soldiers, when they had crucified Yeshua, took his garments, and made four parts, to every soldier a part; and also his coat: now the coat was without seam, woven from the top throughout. They said therefore among themselves, Let us not rend it, but cast lots for it, whose it shall be: that the scriptures might be fulfilled, which saith, They parted my raiment among them, and for my vesture they did cast lots. These things therefore the soldiers did" (John 19:23-24).

However, the Son of God gave up much more than a mere physical garment. "Let this mind be in you, which was also in Messiah Yeshua: Who, being in the form of God, thought it not robbery to be equal with God: But made himself of no reputation, and took upon him the form of a servant, and was made in the likeness of men: And being found in fashion as a man, he humbled himself, and became obedient unto death, even the death of the cross" (Phil. 2:5-8).

Our blessed Messiah laid aside His royal "garb" of eternal deity so He could condescend and assume the likeness of finite humanity. Why did the King of Heaven step out of eternity and enter this fallen world at Bethlehem 2,000 years ago? He came for one reason--to die. "Even as the Son of man came not to be ministered unto, but to minister, and to give his life a ransom for many" (Matt. 20:28).

Why did the King of Heaven step out of eternity and enter this fallen world 2,000 years ago? He came for one reason--to die.

However, our Lord's death was only temporary-making Him the only Person in the history of the world to borrow a tomb. On the third day, He emerged as our victorious, glorified, risen Saviour. In the New Testament, the Apostle Paul concludes his classic discussion of the Resurrection with these words of comfort and assurance: "O death, where is thy sting? O grave, where is thy victory? The sting of death is sin; and the strength of sin is the law. But thanks be to God, which giveth us the victory through our Lord Yeshua Messiah" (1 Cor. 15:55-57).

6. Both were sent to Egypt in their youth.

Yoseph: "Then there passed by Midianites merchantmen; and they drew and lifted up Yoseph out of the pit, and sold Yoseph to the Ishmeelites for twenty pieces of silver: and they brought Yoseph into Egypt" (Gen 37:28).

Yeshua: "And when they were departed, behold, the angel of the Lord appeareth to Yoseph in a dream, saying, Arise, and take the young child and his mother, and flee into Egypt, and be thou there until I bring thee word: for Herod will seek the young child to destroy him. When he arose, he took the young child and his mother by night, and departed into Egypt: And was there until the death of Herod: that it might be fulfilled which was spoken of the Lord by the prophet, saying, Out of Egypt have I
called my son" (Matt. 2:13-15).

This was the fulfillment of yet another Messianic prophecy in Hosea 11:1: "When Israel was a child, then I loved him, and called my son out of Egypt."

7. Both were sold for the price of a slave.

Yoseph: "Then there passed by Midianites merchantmen; and they drew and lifted up Yoseph out of the pit, and sold Yoseph to the Ishmeelites for twenty pieces of silver: and they brought Yoseph into Egypt" (Gen 37:28).

Yeshua: "Then one of the twelve, called Judas Iscariot, went unto the chief priests, And said unto them, What will ye give me, and I will deliver him unto you? And they covenanted with him for thirty pieces of silver" (Matt. 26:14-15).

Yoseph was sold by his brothers for 20 silver shekels, which was the price of a male of Yoseph's age who had been dedicated to the Lord (Lev. 27:5). However, compensation for the death of a mature, male slave was set at 30 shekels (Ex. 21:32).

The betrayal of the Messiah for thirty silver shekels meant that He was not only being sold, but He was going to die. The fatal transaction was prophesied by Zechariah: "And I said unto them, If ye think good, give me my price; and if not, forbear. So they weighed for my price thirty pieces of silver" (11:12).

8. Both were subjected to temptation.

Yoseph: "And it came to pass after these things, that his master's wife cast her eyes upon Yoseph; and she said, Lie with me. But he refused, and said unto his master's wife, Behold, my master wotteth not what is with me in the house, and he hath committed all that he hath to my hand; There is none greater in this house than I; neither hath he kept back any thing from me but thee, because thou art his wife: how then can I do this great wickedness, and sin against God?" (Gen. 39:7-9).

Yeshua: "Then was Yeshua led up of the spirit into the wilderness to be tempted of the devil" (Matt. 4:1). The author of Hebrews wrote, "For we have not an high priest which cannot be touched with the feeling of our infirmities; but was in all points tempted like as we are, yet without sin" (4:15).

9. Both were falsely accused.

Yoseph: "And she spake unto him according to these words, saying, The Hebrew servant, which thou hast brought unto us, came in unto me to mock me: And it came to pass, as I lifted up my voice and cried, that he left his garment with me, and fled out" (Gen. 39:17-18).

Yeshua: "Now the chief priests, and elders, and all the council, sought false witness against Yeshua, to put him to death; But found none: yea, though many false witnesses came, yet found they none. At the last came two false witnesses, And said, This fellow said, I am able to destroy the temple of God, and to build it in three days" (Matt. 26:59-61).

10. Both were delivered over to the Gentiles.

Yoseph: was sold to Ishmeelites, who took him to Egypt (Gen. 37:28).

Yeshua: was led away and "delivered" to the Roman governor, Pontius Pilate (Matt. 27:2).

11. Both were placed with two other prisoners, one of whom was saved, the other lost.

Yoseph: was cast into prison with the chief butler (or, cupbearer) and the chief baker, both of whom had fallen out of favor with their employer, the King of Egypt. These two men had dreams and Yoseph interpreted them, explaining that the dreams contained veiled prophecies of each man's destiny.

Everyone was amazed when Yoseph's predictions came true--the chief butler was restored to his position in Pharaoh's house, but the chief baker was executed, just as Yoseph had said (Gen. 40:1-22).

Yeshua: they crucified between two criminals. One of them mocked Him, but the other one humbly cried, ". . . Lord, remember me when thou comest into thy kingdom" (Luke 23:42). The unrepentant man died and went to Hell, but the repentant man was with Messiah in Paradise that very day (v. 43).

Thirty was the age when priests entered active service in the Tabernacle, and later in the Temple (Num. 4:1-3, 23, 46-57).

12. Both began their life's work at age 30.

Yoseph: "And Yoseph was thirty years old when he stood before Pharaoh king of Egypt . . ." (Gen. 41:46).

Yeshua: "And Yeshua himself began to be about thirty years of age, being (as was supposed) the son of Yoseph, which was the son of Heli" (Luke 3:23).

Thirty was the age when priests entered active service in the Tabernacle, and later in the Temple (Num. 4:1-3, 23, 46-47). Also, David was 30 years old when he became king (2 Sam. 5:4).

13. Both were exalted by God after a season of suffering.

Yoseph: "And Pharaoh said unto Yoseph, See, I have set thee over all the land of Egypt. And Pharaoh took off his ring from his hand, and put it upon Yoseph's hand, and arrayed him in vestures of fine linen, and put a gold chain about his neck; And he made him to ride in the second chariot which he had; and they cried before him, Bow the knee: and he made him ruler over all the land of Egypt" (Gen. 41:41-43).

Yeshua: "Wherefore God also hath highly exalted him [that is, Yeshua], and given him a name which is above every name: That at the name of Yeshua every knee should bow, of things in heaven, and things in earth, and things under the earth; And that every tongue should confess that Yeshua Messiah is Lord, to the glory of God the Father" (Phil. 2:9-11).

14. Both forgave those who wronged them.

Yoseph: "And Yoseph said unto his brethren, Come near to me, I pray you. And they came near. And he said, I am Yoseph your brother, whom ye sold into Egypt. Now therefore be not grieved, nor angry with yourselves, that ye sold me hither: for God did send me before you to preserve life" (Gen. 45:4-5).

Yeshua: "Then said Yeshua, Father, forgive them; for they know not what they do. And they parted his raiment, and cast lots" (Luke 23:34).

15. Both were sent by God to save His people.

Yoseph: "And God sent me before you to preserve you a poster-ity in the earth, and to save your lives by a great deliverance" (Gen. 45:7).

Yeshua: "And she [Mary] shall bring forth a son, and thou shalt call his name Yeshua: for he shall save his people from their sins" (Matt. 1:21).

16. In both lives, God turned evil into good.

Yoseph: "But as for you, ye thought evil against me; but God meant it unto good, to bring to pass, as it is this day, to save much people alive" (Gen. 50:20).

Yeshua: "And we know that all things work together for good to them that love God, to them who are the called according to his purpose" (Rom. 8:28).

17. Both men's destinies were inextricably linked in a way that demonstrates the awesome sovereignty of Almighty God.

If Yacov had not favored Yoseph, his brothers would not have been jealous of him.
If Yoseph's brothers had not been jealous of him, they would not have sold him to the Midianite traders.
If they had not sold him to the Midianite traders, he would never have gone to Egypt.
If Yoseph had not gone to Egypt, he would never have been sold to Potiphar.
If he had not been sold to Potiphar, Potiphar's wife would never have falsely accused Yoseph of attempted rape.
If Potiphar's wife had not accused him of attempted rape, they would never have thrown Yoseph into prison.
If they had not thrown Yoseph into prison, he might never have met Pharaoh's butler and baker. If he had not met Pharaoh's butler and baker, he never would have interpreted their dreams.
If he had not interpreted their dreams, he would not have been called upon to interpret Pharaoh's dreams.
If he had not been called upon to interpret Pharaoh's dreams, Pharaoh would never have made him prime minister of Egypt.
If Pharaoh had not made Yoseph prime minister of Egypt, they would not have implemented his national emergency conservation plan.
If his national emergency conservation plan had not been implemented, his family in Canaan might have perished in the famine.
If his family in Canaan had perished in the famine, the genealogical line of the Messiah would have been destroyed.
If the genealogical line of the Messiah had been destroyed, there would have been no Baby born in Bethlehem.
And if that Baby boy had not been born in Bethlehem, we would all be dead in our sins and without hope in this world!
Do you have any "ifs" in your life?
God will use them for your good,
if you've been called by the Lord....according to His purpose!

"O the depth of the riches both of the wisdom and knowledge of God!
How unsearchable are His judgments, and His ways past finding out!"
(Rom. 11:33)



Mayim's Endnote